EXCLUSIVE INTERVIEW – Cabin Crew Turned Home-baker: Creating Artistic Thai Tea Crepe Cake
FLYING CAREER CAME TO A HALT
The 35-year-old Kitty joined her airline company as a flight attendant in 2011, she returned to become a flying mum after giving birth to two adorable sons. Her flying days were held back when flights were grounded due to the COVID-19 pandemic, thus she had to deal with a major income loss.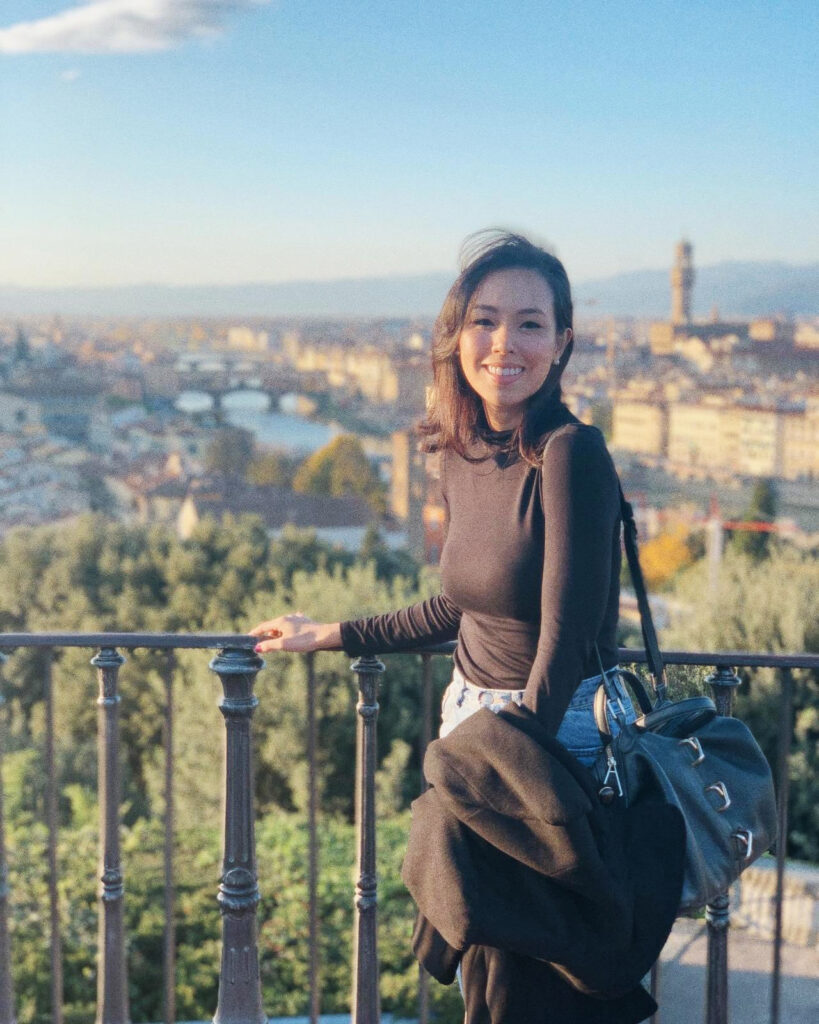 "It was shocking as full flights became empty and everything happened so fast. There was no way I could prepare myself for this." Kitty recalled.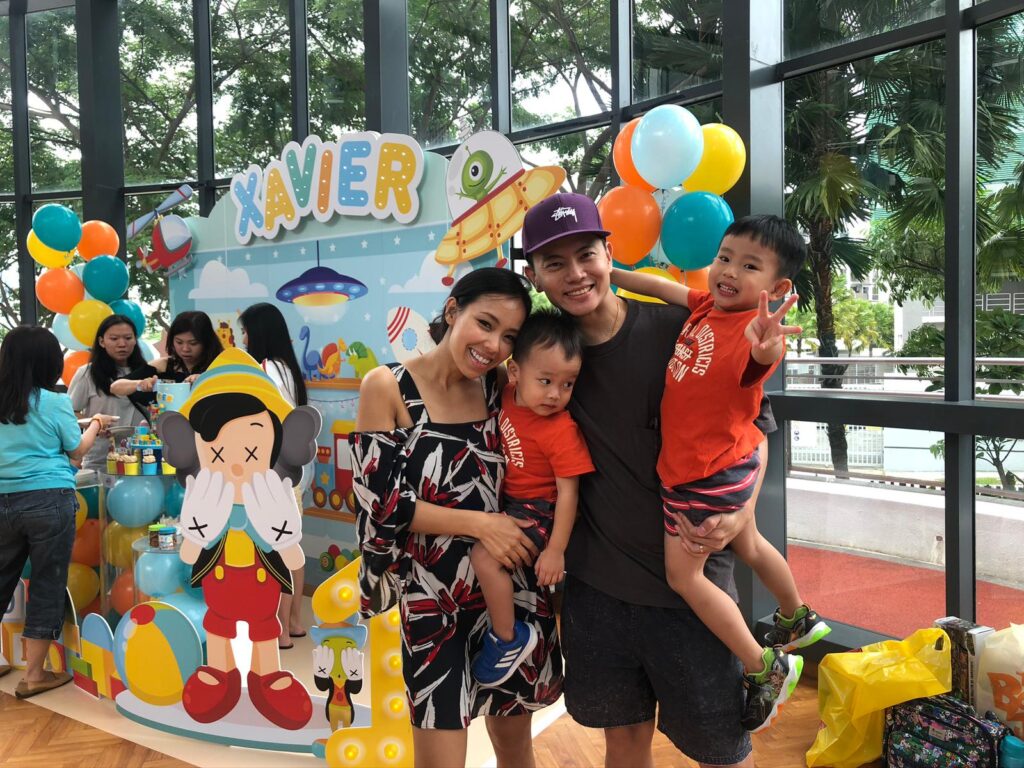 With the need to feed her two sons and more time on her hands, Kitty started making Thai tea crepe cakes at home.
BAKING AS AN INTEREST
Kitty's interest in baking started since high school when she was an exchange student in Darwin, Australia. As her host family loves to bake, they would gather as a family to bake every weekend.
"My duty as the newest member is to feed our chickens and tell them to lay lots of eggs so that in the morning I can collect them and bake banana bread, poppy seed cake, carrot cake etc," Kitty said, jokingly.
That was when she realised that the weekly baking affair had piqued her interest in baking.
TWOBAKEBOYS
During the Circuit Breaker, Kitty decided to make crepe cakes for their family activity, her two sons loved to help her mix batter. That is how she came up with her brand name: 'Twobakeboys'.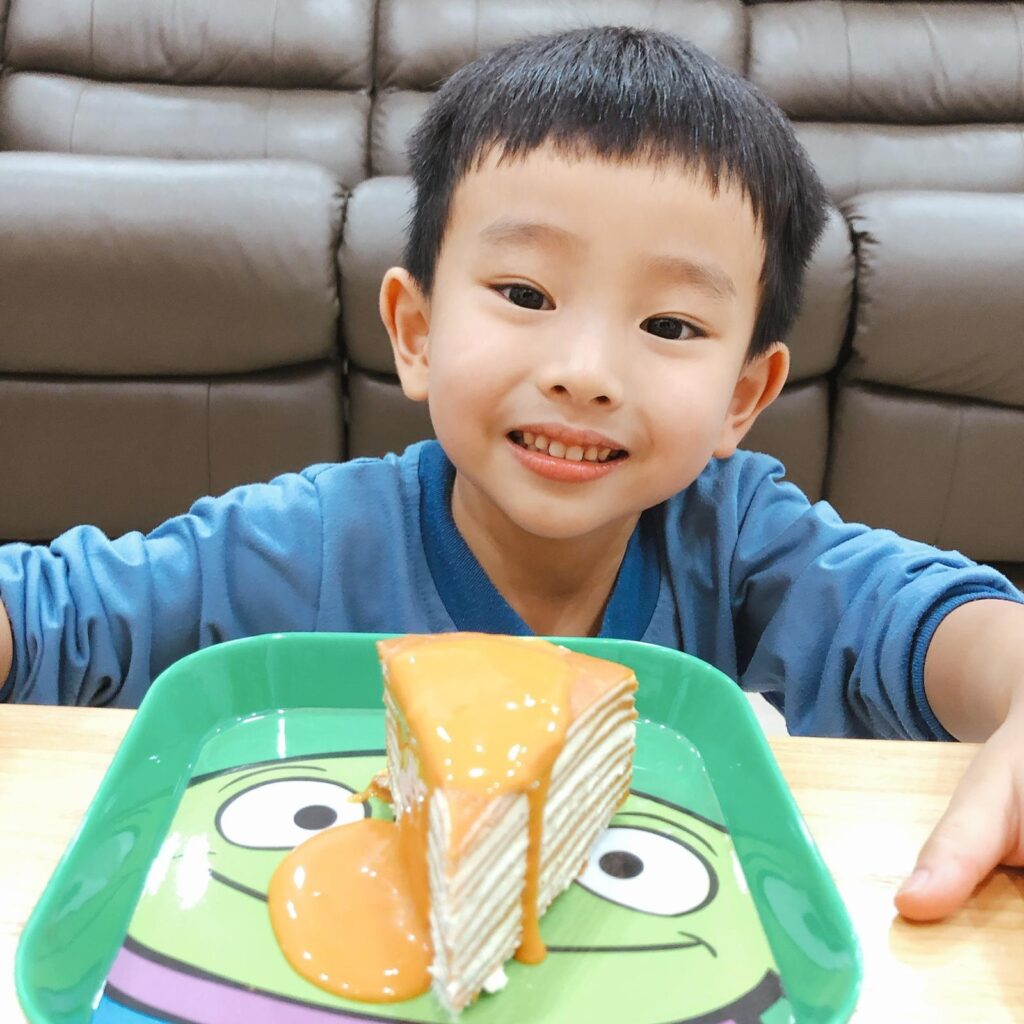 "The boys were always helping me to prepare eggs for our meals; they would crack, beat and fry the eggs. They get to learn different ingredients and measurements and they love it so much." Kitty said.
With the helpful feedback from her family and friends, Kitty improved her recipes day by day. After nearly two weeks, she received her first sale through social media. From then, she began her journey as a home-baker.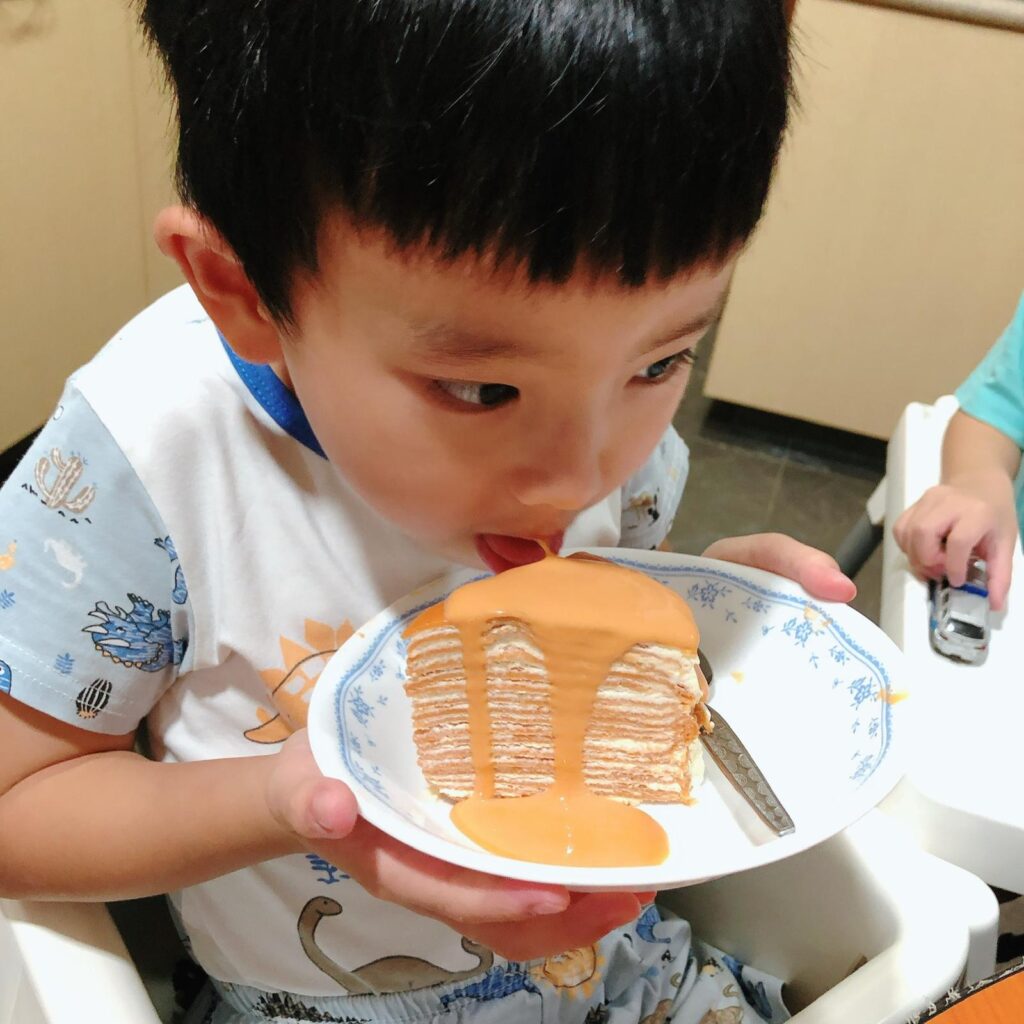 "Being Thai, I decided to use Thai tea for the flavour and everyone in the family enjoyed it so much that there weren't any leftovers," Kitty said.
THE MAKING OF THAI TEA CREPE CAKE
Kitty shares with us how she makes a delicious Thai tea crepe cake. The ingredients required are cake flour, caster sugar, milk, eggs, butter and tea leaves. Firstly, mix all the ingredients together. Then fry layer by layer, after that wait for the crepe to cool down. Start to prepare the cream then add whipped cream on to each layer till the desired height. Then make the milk tea sauce at the end and voila!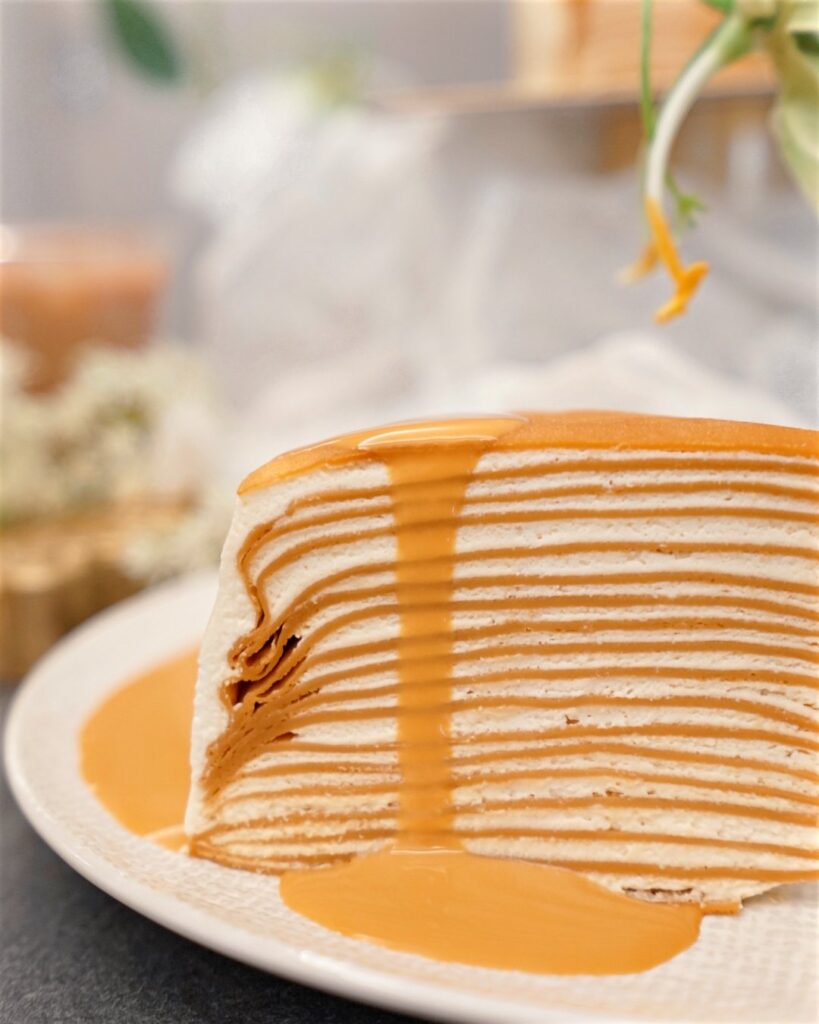 A CONSTANT LEARNING JOURNEY
As an amateur baker, Kitty focuses on improving her cake recipes through comments and constructive feedback from her customers, family and friends. Occasionally, she faces negative criticisms for her creations.
"Someone who has never tried my crepe cake left a negative comment saying that my crepe cake is not original as they don't have edges and that I should go do my research before putting my products online. But I feel that my crepe cakes are crafted this way as it is my style."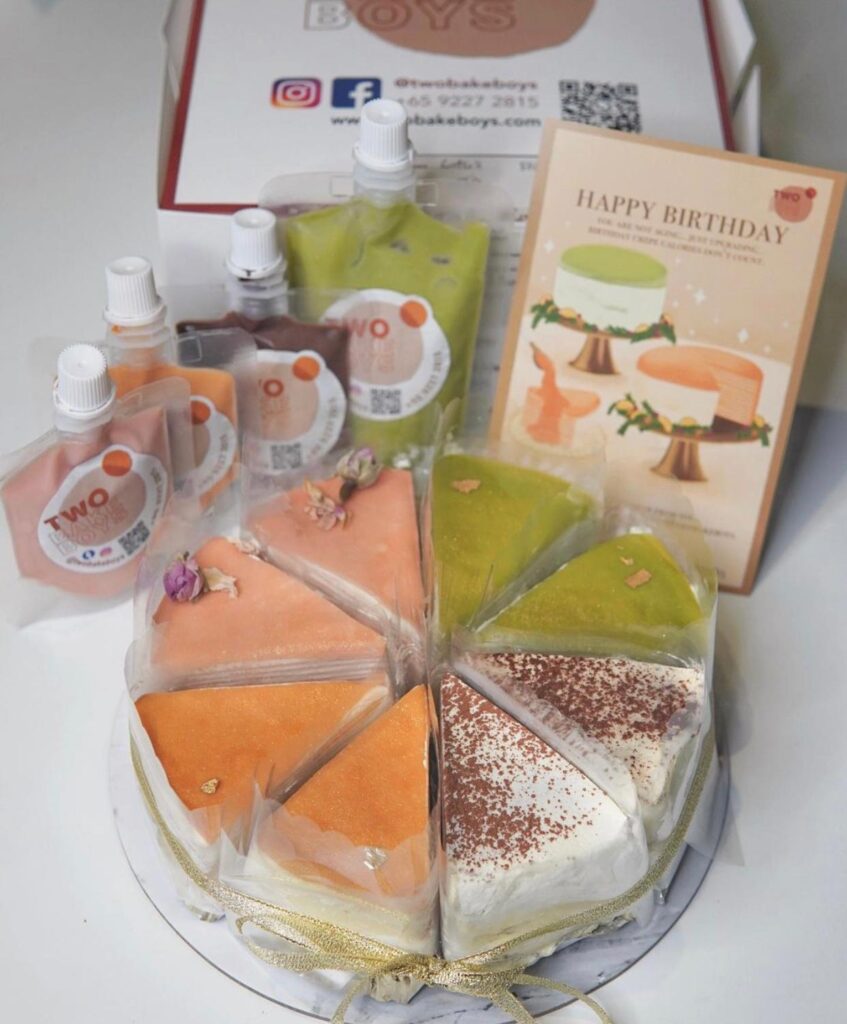 Whether it is negative or positive feedback, Kitty learnt to take it as part of her learning journey. Time management is also a challenge for Kitty as juggling family, baking, and a career means having to wake up at odd hours to finish her orders.
BAKING AS AN ARTISTIC EXPRESSION
Kitty loves doing arts and crafts hence to her, handcrafting tea crepe cake is a form of art and expression. Baking is an interest that she fell in love with and found fulfilment in.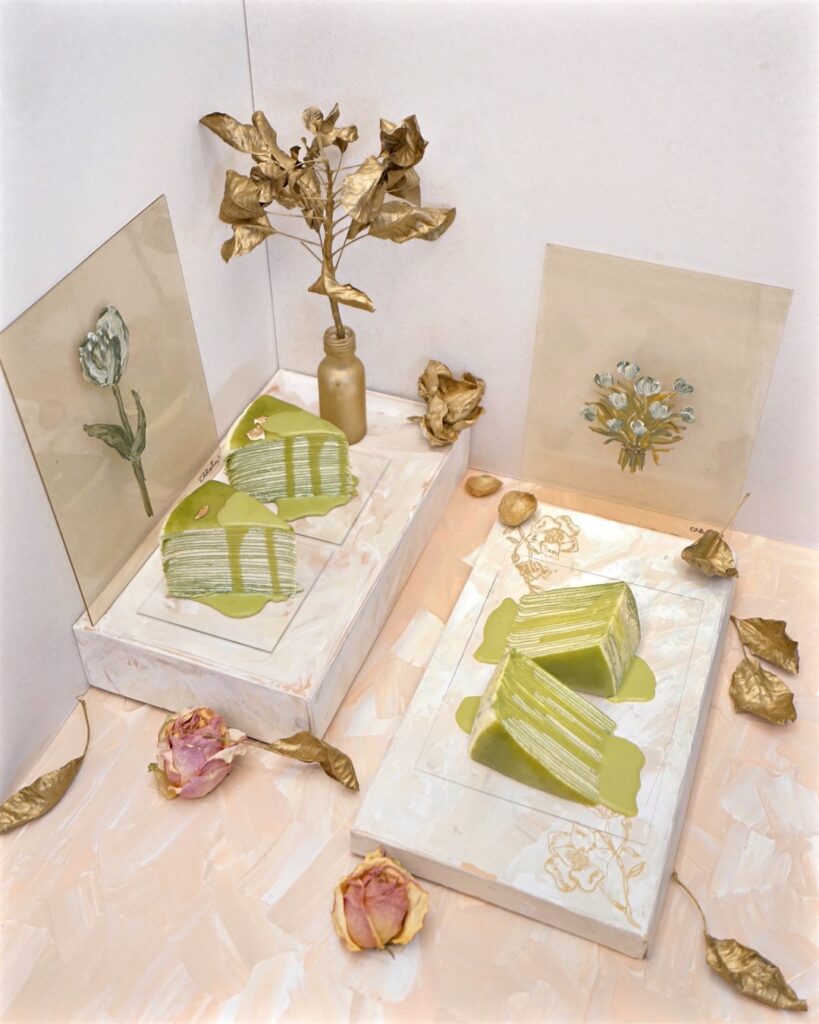 "Whenever twobakeboys is part of a celebration or gathering and customers enjoy my creations, I find it truly rewarding," Kitty said.
MISSING HOME
Due to the current travel restrictions, Kitty was unable to leave Singapore and she wished to see her family back in her hometown in Thailand.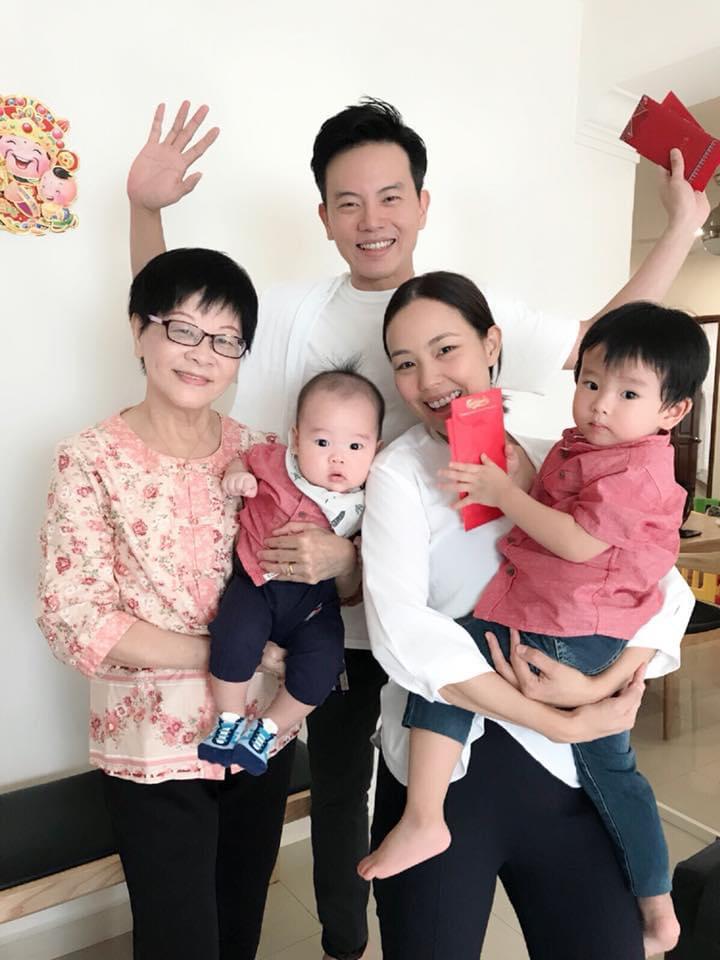 "I would like to visit my family back in Thailand once we can start flying again as I miss them dearly. I also want to eat my favourite Tom Yum soup," Kitty said.
FUTURE PLANS
Kitty hopes to be able to supply her cakes to cafes or restaurants in the future so that more people will be able to try her style of crepe cakes. A talented and determined lady originally from France, adopted in Thailand and perfected in Singapore.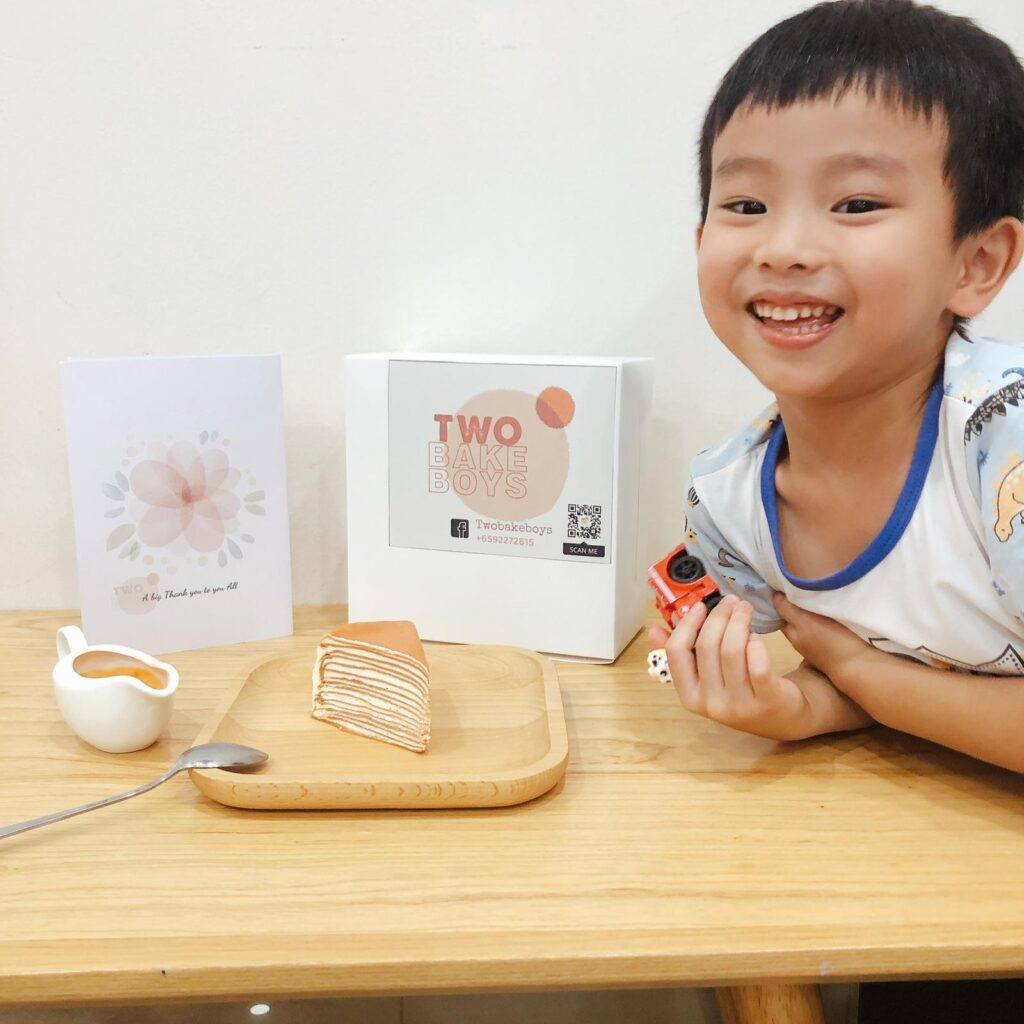 Check out Kitty's artistic and delicious Thai Tea Crepe Cake at www.twobakeboys.com