EXCLUSIVE INTERVIEW – Digital Made Possible: When Conferences and Events goes Virtual
Nicole and SK, owners of The MICE Studio, have nine years of experience in the Meetings, Incentives, Conferences and Events (MICE) industry before deciding to venture out and set up The MICE Studio in 2016.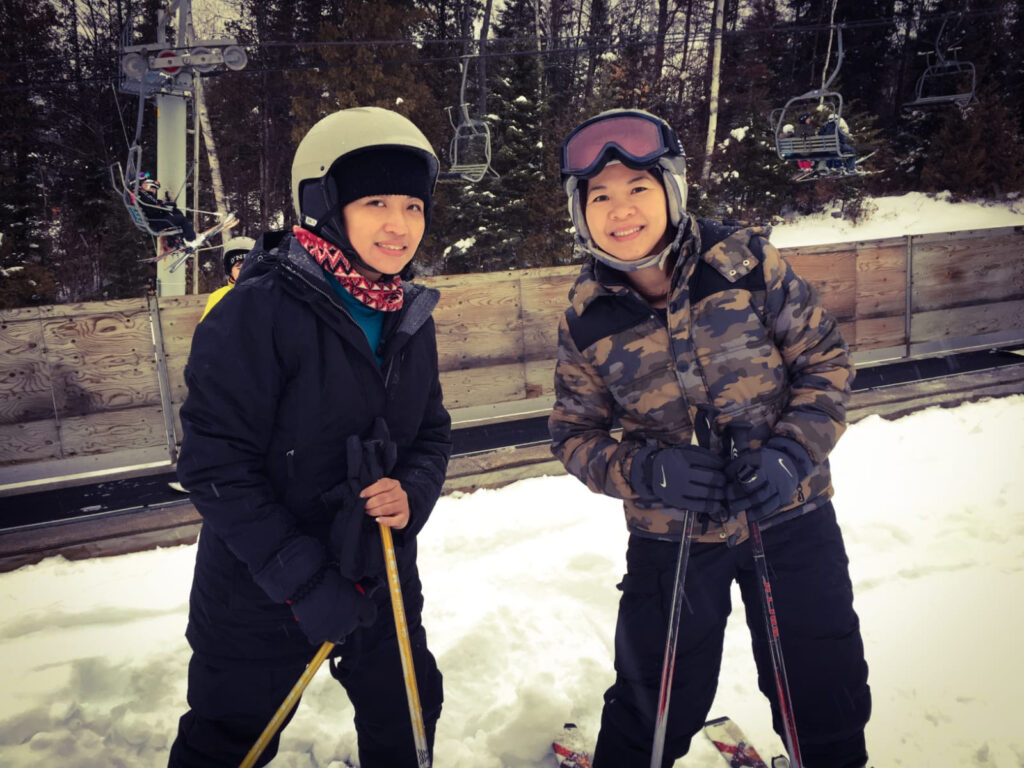 They started the event management firm to offer honest event consultancy that will bring people, communities, businesses and organisations together.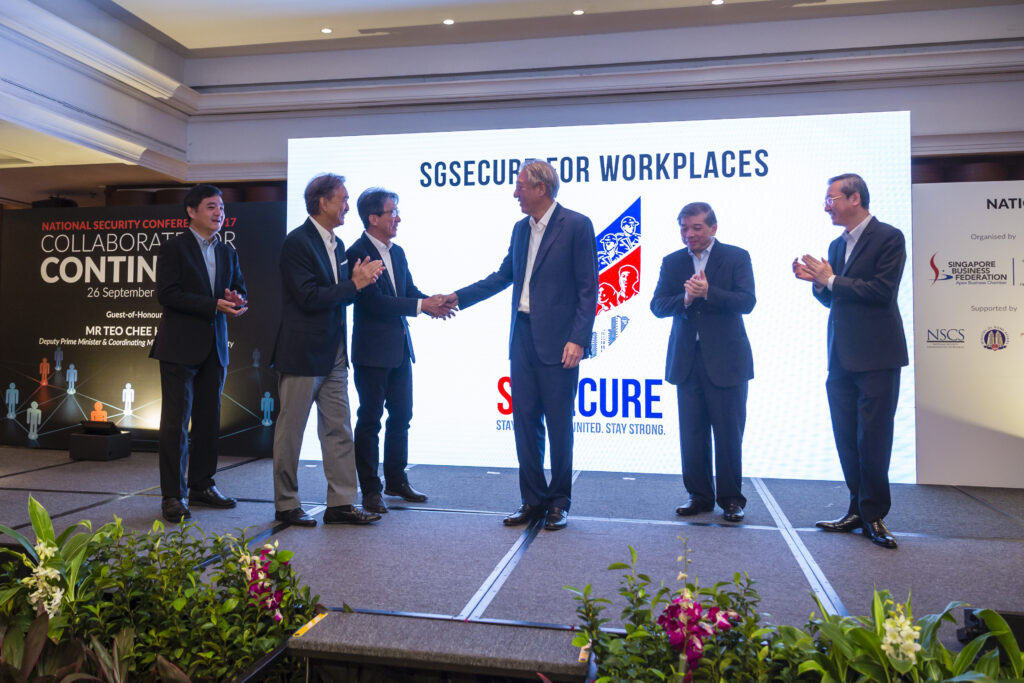 "We believe in the training and provision of work for people from all levels of education and from all walks of life to work in the MICE industry and we continuously look for avenues to incorporate and showcase local talent in our events." Nicole said.
IMPACT OF THE PANDEMIC
The MICE Studio is in a people-centric industry and the COVID-19 pandemic has been a big push factor to re-invent their business processes, think outside the box and adopt technology and creative solutions. In place of face-to-face interactions in public gatherings, events have to leap into the virtual realm.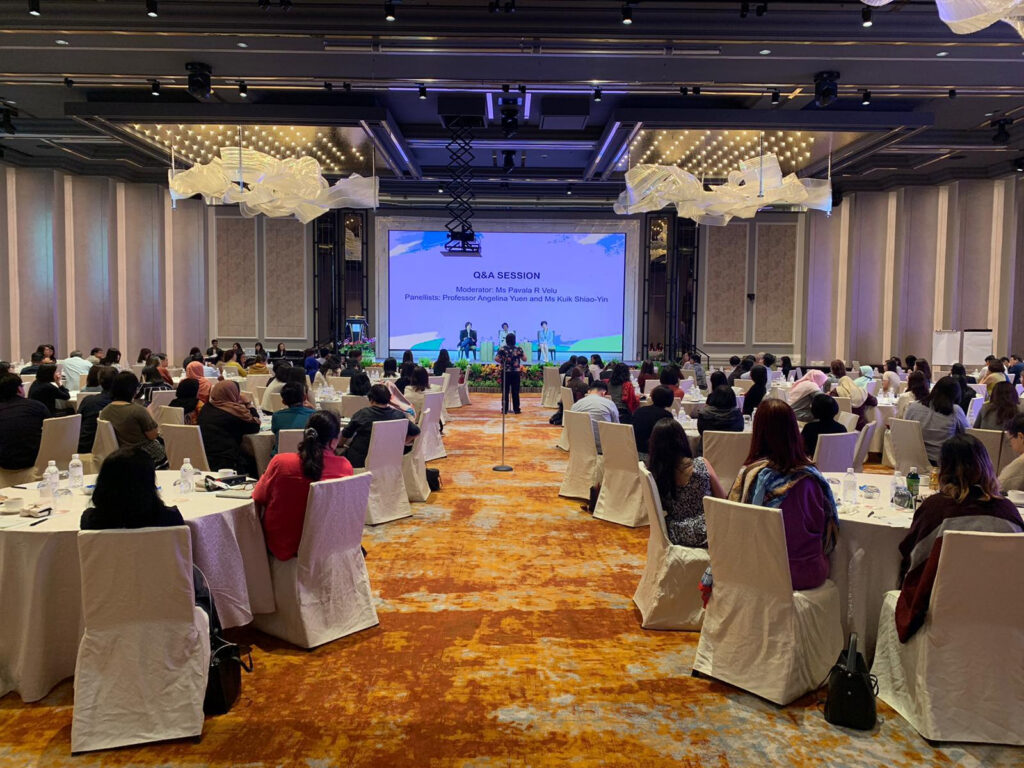 "The Circuit Breaker dealt us a very hard blow. Events that we were in the midst of planning were postponed till next year. Because of the travel restrictions, events involving international delegates had to be put on hold. And due to the uncertainty about the trajectory of the pandemic in the early days, some potential events were cancelled and our business essentially grounded to a halt, almost overnight." shared SK.
As "Social Distancing" became the most spoken-of word, the team had to make sure that their operational plans for live filming and online streaming adhered to the current safe-entry rules and crowd control measures.
FACING CHALLENGES AHEAD
Conferences, corporate dinners, award ceremonies, product launches, and exhibitions are innately 'interactions-heavy' social events. The challenge for the MICE industry is how to offer suitable virtual substitutions for face-to-face interactions, as well as the adoption of technology to re-invent physical conventions to virtual conventions or hybrid conventions with unique audience engagement.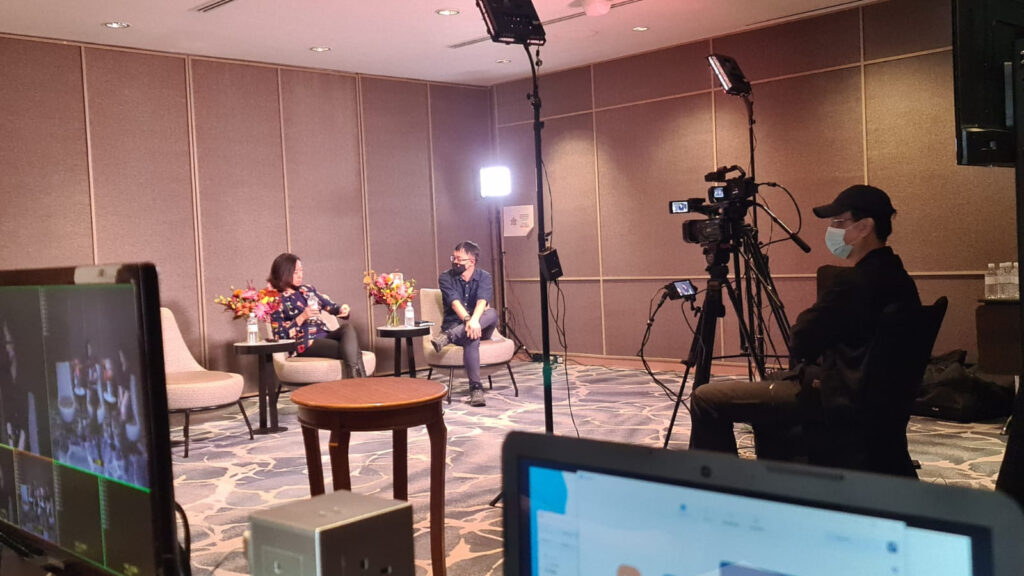 Through the crisis, the whole MICE industry rallied together to help one another, and instead of competing, they lifted each other up and provided support to all in need. Long-term partners and industry friends supported the MICE Studio to pivot swiftly to online platforms and conducted many trials and tests of digital solutions to deliver quality content and enhance audience interaction for memorable virtual meetings and events.
Another challenge that they faced was trying to introduce their customers to the virtual realm as many of them had no prior experience in holding virtual events, nor do they understand the mechanics required for it.
"We held many consultations, meetings and demo sessions with our customers to alleviate their fears and keep them updated with the latest digital offering in the market." Nicole elaborated.
ENDURING THE TOUGH TIMES
The cohesive team at The MICE Studio motivates Nicole and SK to face each new challenge with perseverance and resolve. Through their friendship and support, Nicole and SK draw strength from the team to keep going and not to give up.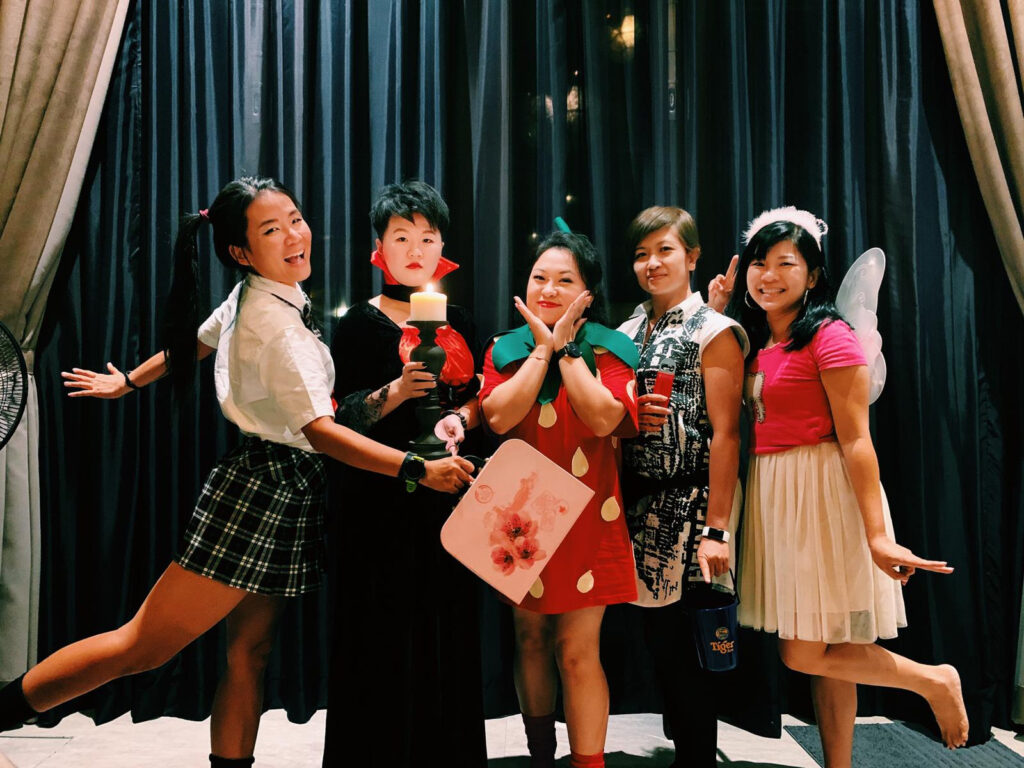 "We are responsible for their livelihood and it is a responsibility we do not take lightly. The mantra we are living by is that we will get through this together." SK said.
The Jobs Support Scheme (JSS) had also helped to relieve their stress on staff wages during the worst months of the Circuit Breaker.
"On a macro perspective, we believe in the united spirit of Singaporeans to rise above the current difficulties, help each other and to emerge stronger as a nation from this unprecedented crisis." Nicole added.
SUSTAINING THE BUSINESS
When the Circuit Breaker started, MICE Studio ventured into an online business producing customised care packs for companies and agencies who wished to show appreciation and support to their staff and customers.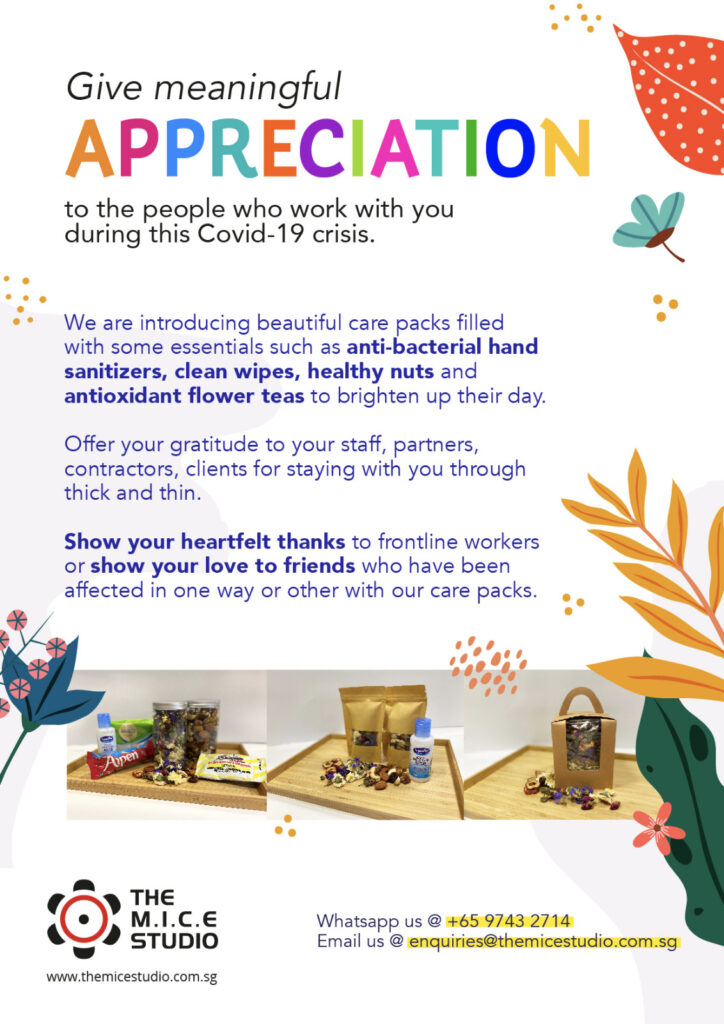 "Honestly we did not make much from the venture, but it kept our morale up. We also leveraged our strong networks within the industry to assist a client in setting up Swab Isolation Facilities for COVID-19 testing. Setups were extensive due to the sheer number of migrant workers that needed to be tested safely within a short amount of time, but the team worked tirelessly. The turnaround time to get these facilities up and running was unimaginably tight, but we were able to pull it off due to the dedication of the team in wanting to play our part in fighting this pandemic." SK revealed.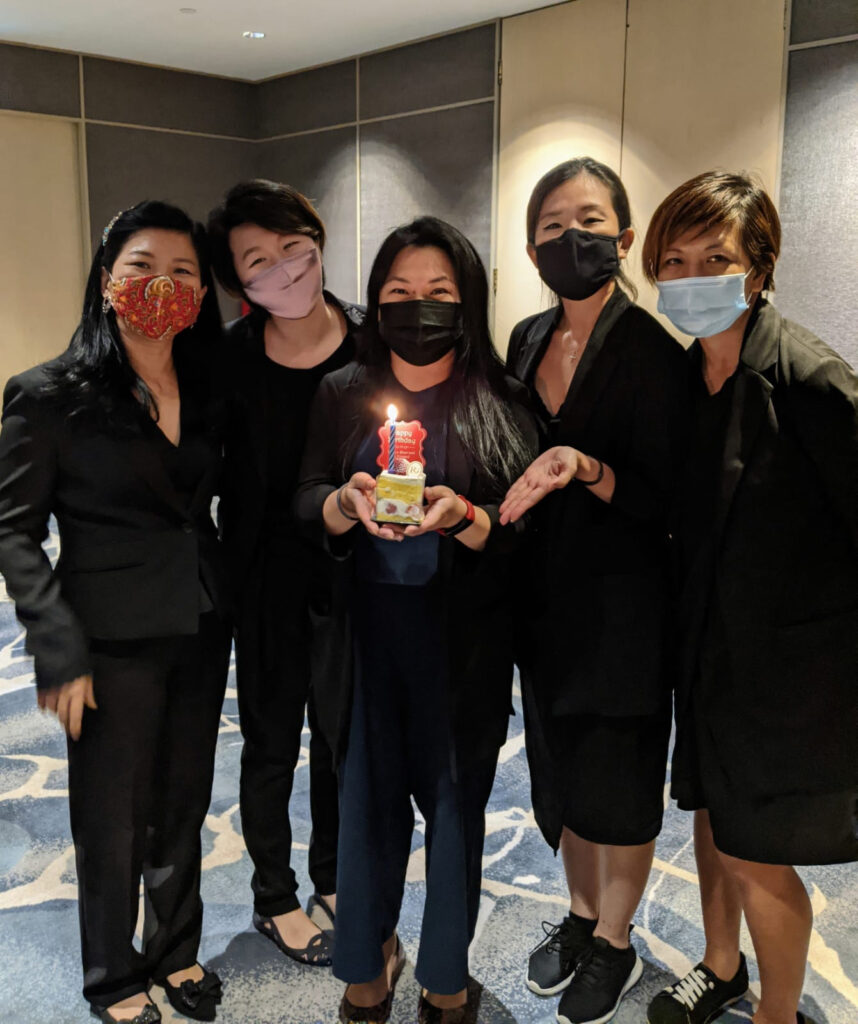 As it turns out, there are many benefits to holding virtual events, such as attracting more international participants as travelling costs and distances are no longer factors. It is also possible to accommodate more local participants as physical venue capacity is also no longer an issue.
"At the MICE Studio, we are always vigilant to new trends. So once we recognised that traditional physical events would not be possible in the near future, we swiftly gravitated to the virtual realm and started marketing our strengths and capabilities in delivering virtual events via social media." Nicole elaborated.
SUCCESSFUL VIRTUAL EVENTS
With the opening of the economy and government approval for more large-scale events, The MICE Studio aims to incorporate more meaningful and effective digital technologies to hosting future hybrid events, while keeping them safe and secure for both onsite participants and online attendees.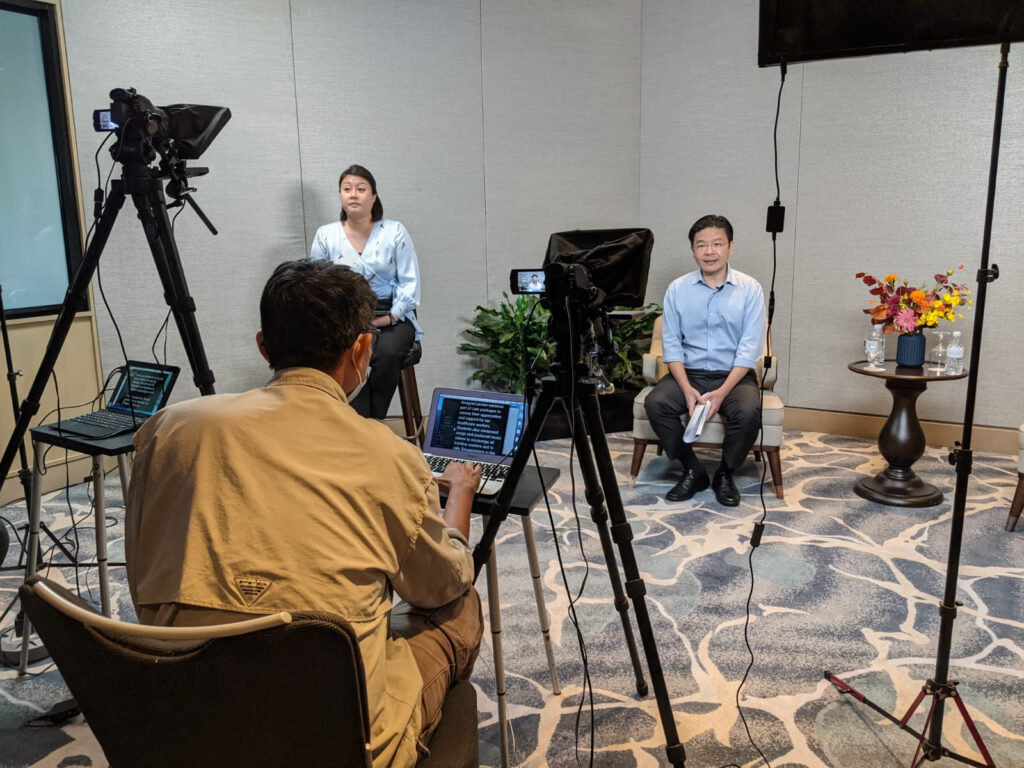 "Since Phase 2 in June, we have done virtual events such as the Workplace Safety and Health (WSH) Campaign Launch 2020, the WSH Awards 2020 Commemorative e-Book and Launch, the National Healthcare Group Polyclinics 20th Anniversary Mosaic, amongst others. We have also just recently successfully completed a 2-day online e-Arts Education Conference, broadcasted live from a hotel venue to 1,800 delegates virtually in November 2020." SK shared.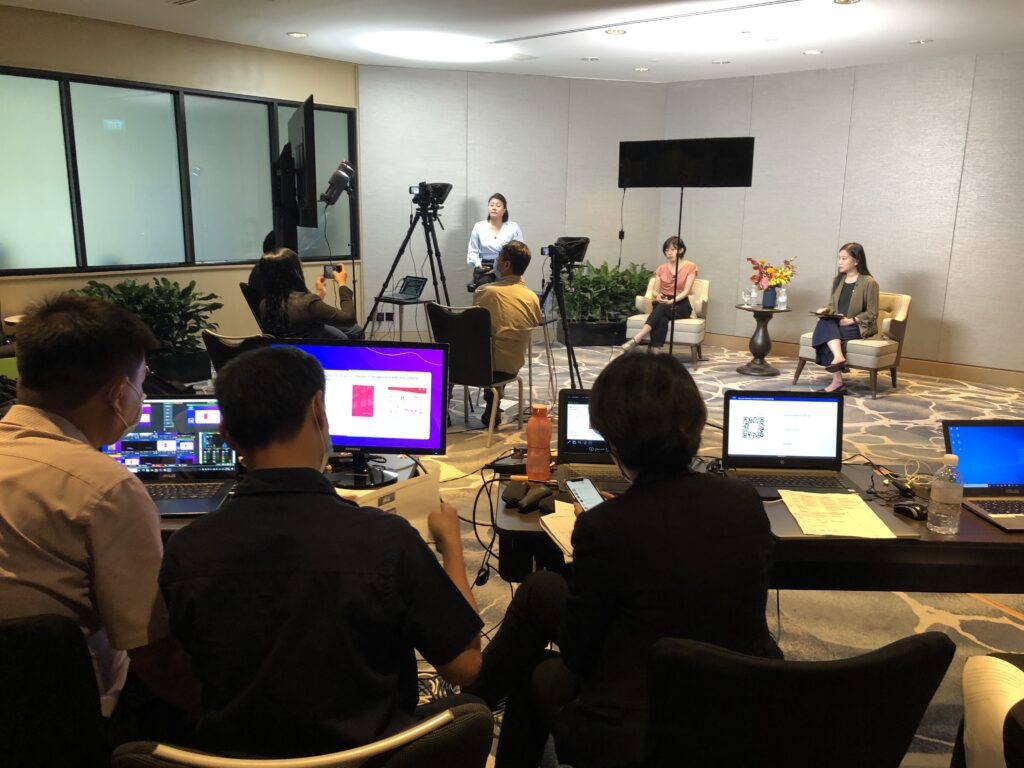 PLANS FOR THE FUTURE
Nicole shares what they have in mind for their firm in the future.
"We will continue to leverage on new technology and upskill our people to deliver curated quality events and premium entertainment, while achieving the necessary KPIs for our clients and sponsors. Once our borders open and business travellers can attend events in Singapore, we have in mind to provide the necessary point-to-point service to ensure a seamless and safe meeting experience for all."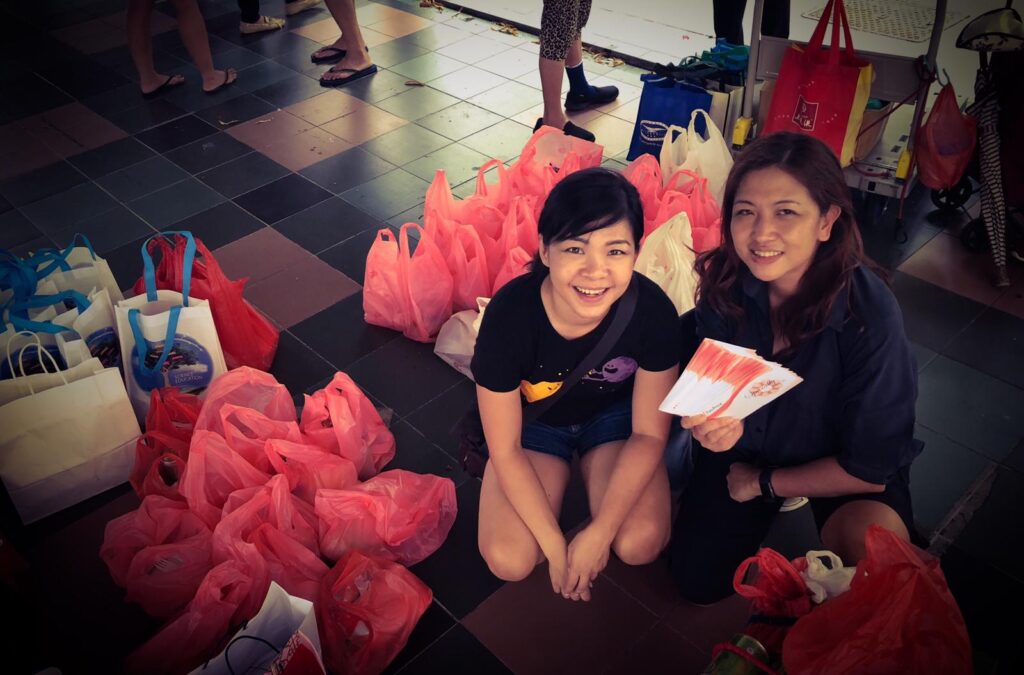 There are plans to expand internationally in the future, and to offer training and job opportunities to people who are eager to learn and work in the MICE industry, regardless of their education level or past work experience.
"Our team is constantly looking for opportunities to give back to the community and we would love to meet and collaborate with anyone who has ideas to do likewise." Nicole added.
Connect with The MICE Studio at www.themicestudio.com.sg