A Dose of Comedy – Win Tickets to Watch Kumar's Live Comedy!
What the world needs now is an injection of sorts! Not just the vaccines we're all going to get soon, but a dose of laughter to take the mickey out of the stress of living! A year without comedy is about to end! We are glad to bring back laughter in 2021. So, get ready to split your sides and fall off your chairs!
Some say laughter is the best medicine, so we bagged a whole load of it with 'A Dose of Comedy'. From the depths of darkness, we have managed to drag him out, pun intended. Featuring none other than Singapore's most iconic drag queen comic Kumar, his claws, glitter and wit plus his sexy showgirls who will lip-sync and dance in the background, reminiscent of his breakthrough performance at the now-defunct cabaret nightclub Boom Boom Room in the late 1990s.
Opening for Kumar will be one of the top new wave Asian stand-up comedians, Sam See. Featured in Comedy Central Asia's Stand-Up Asia, armed with his comic timing and a glib tongue, he is well prepared to shake the foundations before Kumar tears the house down.
Forget the zoom calls and head down to the Drama Centre Theatre for a belly full of laughs!
Date: Friday, 19 March – Sunday, 21 March 2021
Time: 8.00pm
Duration: Approx. 90 minutes
Venue: Drama Centre Theatre, 100 Victoria Street, National Library Building, Level 3, Singapore 188064
Ticket Price: $75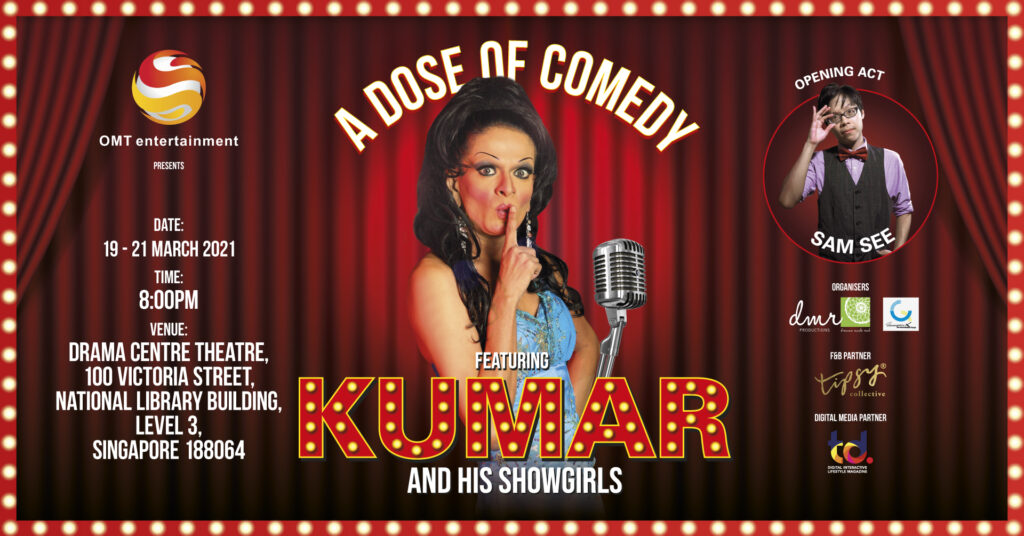 When we asked OMT, why they decided to come in as presenter for this comedy show, Dr James Yeow, Chairman of OMT Group said
"OMT Group – OMT Entertainment's main objective is to support local artists and to work with like-minded companies in creating unforgettable memories for all our clients. We trust that DMR Productions and GenerationX are partners we can rely on to see this through.
We then asked the organizers why they decided to run this show, their reply was…
"DMR Productions and GenerationX were badly hit by the COVID-19 pandemic. Not only were our businesses whipped badly, our friends who were in the entertainment business were hit too. We needed to host an event, the entertainers needed to be on stage, the venues needed to be filled, the tech crew needed a show to run. So we jointly decided to do what we knew best, to produce this show. Most importantly we felt we all needed to have a good laugh. We are thankful that OMT Group decided to jump on board as our presenters and Tipsy Collective came in as our F&B Partner. We do hope the general public will set aside their zoom calls and join us for "A Dose of Comedy". Afterall, laughter is the best medicine, apart from the vaccines."
Here are 5 questions we asked Kumar:
What did you do last year, since you were not able to be on stage to perform?
What did I do? Catch up on my Netflix movies and tried to exercise but gave up, going to start again.
Are you happy that you are back on stage?
Definitely, it is the day I've been waiting for – to come on stage. I'm back, live!
What has this pandemic taught you?
To love yourself, slow down with life, and remember to appreciate the things you have around you.
What would you advise people who are facing this new norm?
Just follow lah – follow whatever they say so things can open up and everybody can go back to their own lives.
Any wise sayings?
Be positive, test negative!
TDMAG Exclusive "A Dose of Comedy" Kumar's Live Lucky Draw
2 lucky winners will receive a ticket to Kumar's live comedy on 21 March 2021. Simply Like & Share and comment "Liked & Shared" on this Facebook post, winners will be announced on 15 March 2021.
TDMAG Facebook Page: www.facebook.com/tdmag.sg
T&Cs:
1. We will randomly select 2 winners. Participants will have to Like & Share this post on Facebook and comment "Liked & Shared" on the same post to be eligible for the lucky draw.
2. Participants' Facebook accounts must be set to 'public' to qualify for the lucky draw.
3. Each winner will win one ticket.
4. Lucky draw is applicable for Singapore residents only.
5. Ticket is not exchangeable for cash.
6. We will contact the winners via Facebook.
7. Tickets will be delivered to the lucky winners before 18 March 2021.