Cycling Journey at Changi Jurassic Mile
Hyped by the opening of Changi Jurassic Mile, our tdmag team went on a cycling journey just a week after the official opening.
HUB & SPOKE Changi Airport was officially opened by Transport Minister, Mr Ong Ye Kung on 11 October 2020. It is a pit stop on the new Changi Airport Park Connector linking Changi Airport to the East Coast Park Connector with cyclist-friendly amenities such as bicycle rentals, toilets, showers, and a cafeteria.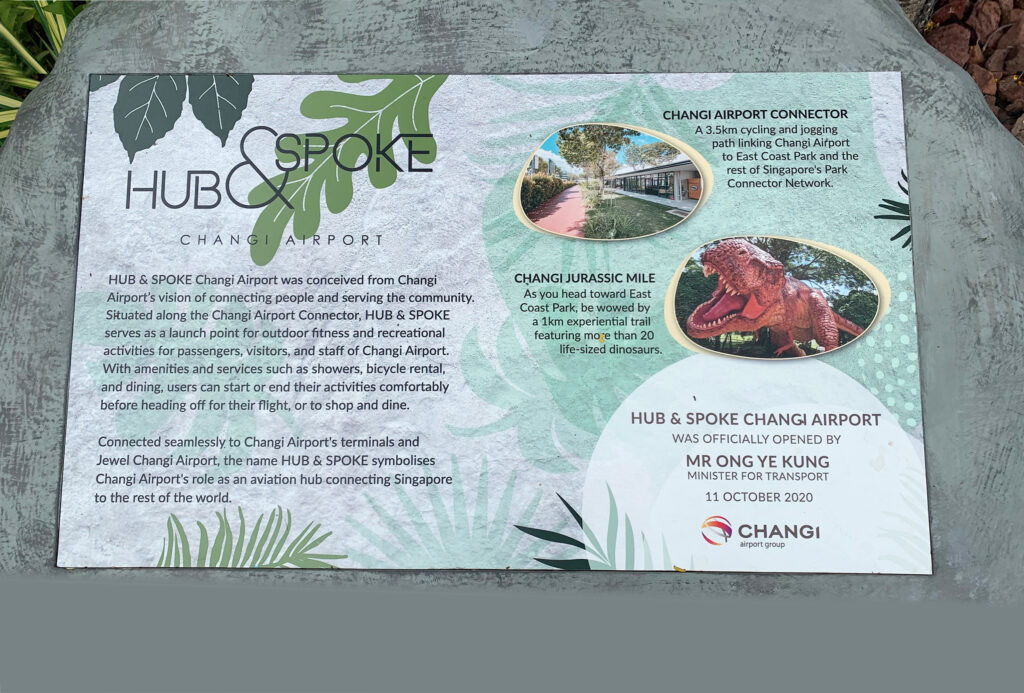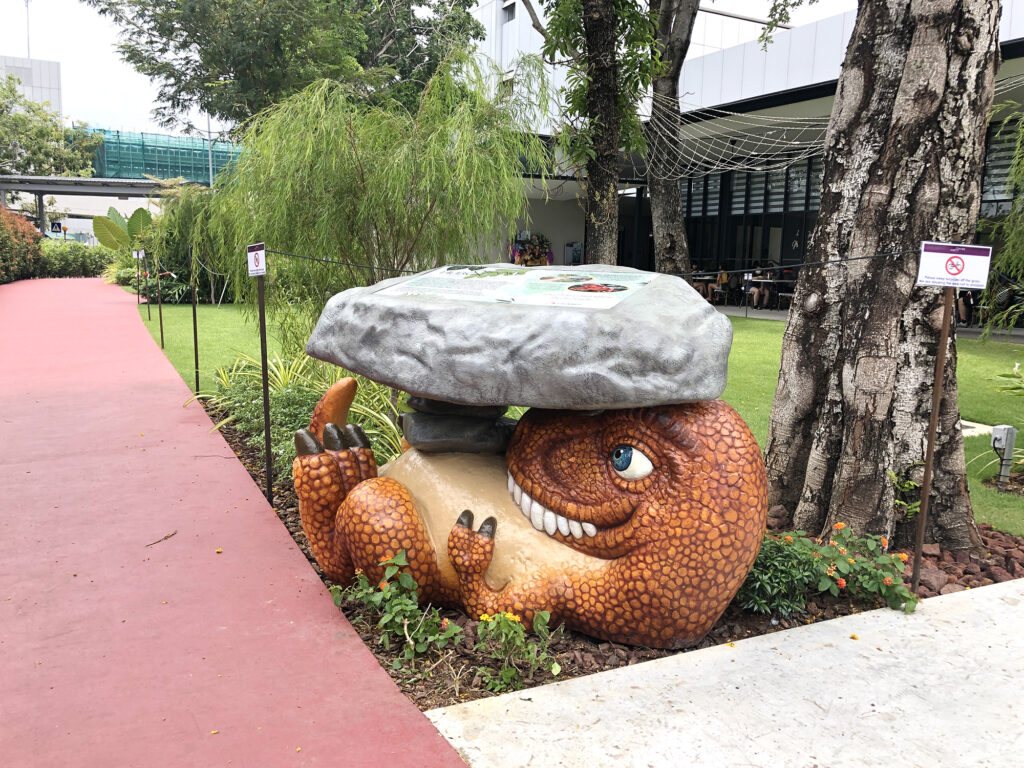 1:30PM – RENTING THE BICYCLE
Braving the sunlight at 1:30pm, our team had arrived at HUB & SPOKE that is located beside Changi Airport Terminal 2. HUB & SPOKE is a public open-air event space, situated next to its cafe with the same name. The bicycle rental shop, GoCycling, is located along the same stretch.
Do take note of the rental prices if you are interested in loaning a bicycle. Adult bicycle rental starts from $8/hour while children bicycle starts from $6/hour, with an addition of $1 for a bicycle with a basket. As there is a distance of 2km from HUB & SPOKE to Changi Jurassic Mile, it is highly recommended to rent a bicycle to enjoy the scenery leisurely.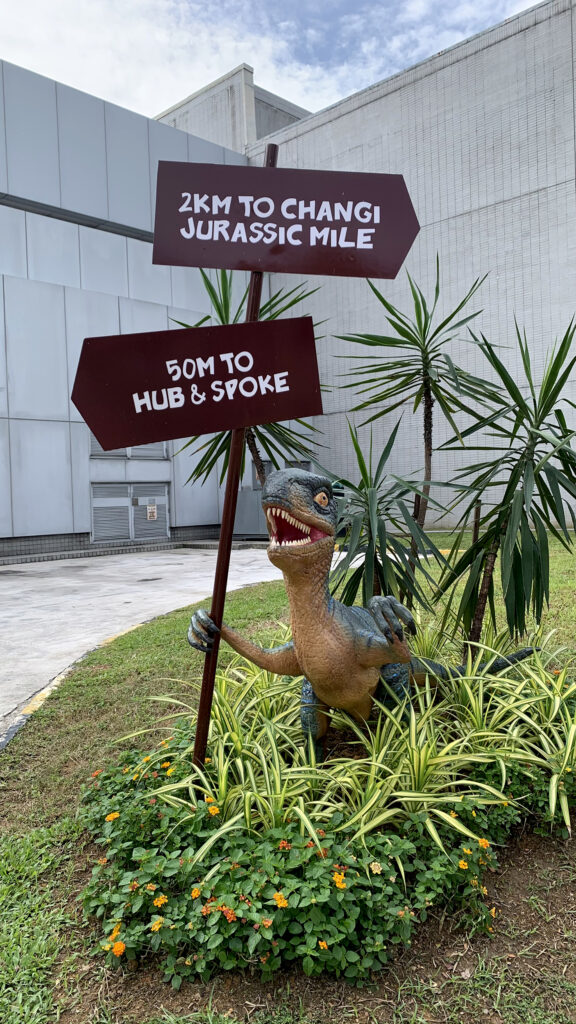 2:00PM – OUR JOURNEY BEGINS
We began our cycling trip and enjoyed the lush greenery along the cycling track. It is almost impossible to get lost with the bright red pathway. As you continue your way towards Changi Jurassic Mile, you will pass by the VIP Complex, dnata, SATS and finally Terminal 4. Take in the beautiful view as you stroll by!
It was a peaceful and pleasant ride as there were not many people and cars, which may be due to the slow weekday. The broad pathway is ideal for both running and cycling, simply take care to keep an eye out for joggers. We took approximately 15 minutes to travel from HUB & SPOKE to Changi Jurassic Mile by bicycle. Walking or jogging will probably take a longer time.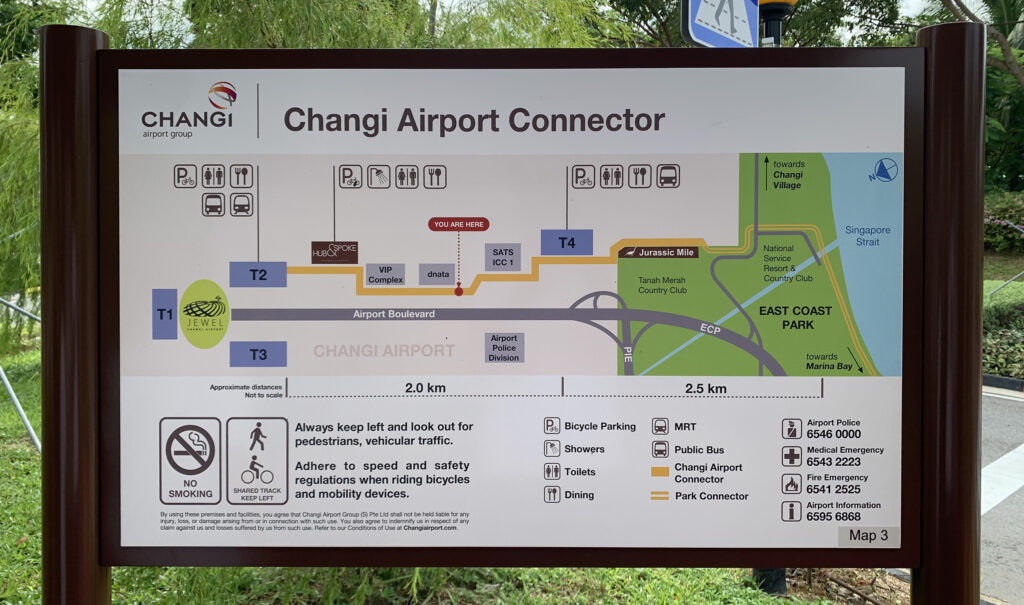 2:15PM – INTO THE JURASSIC WORLD
Finally, we arrived at the Changi Jurassic Mile after a 15-minute ride. An animated screen with a Tyrannosaurus rex greeted us, beckoning visitors to enter its lair. Next to the screen, a map also shows the nine species of dinosaurs that visitors will encounter along the way. Four types of dinosaurs are displayed: Herbivorous, Flying, Predatory and Defensive. Do keep your eyes peeled!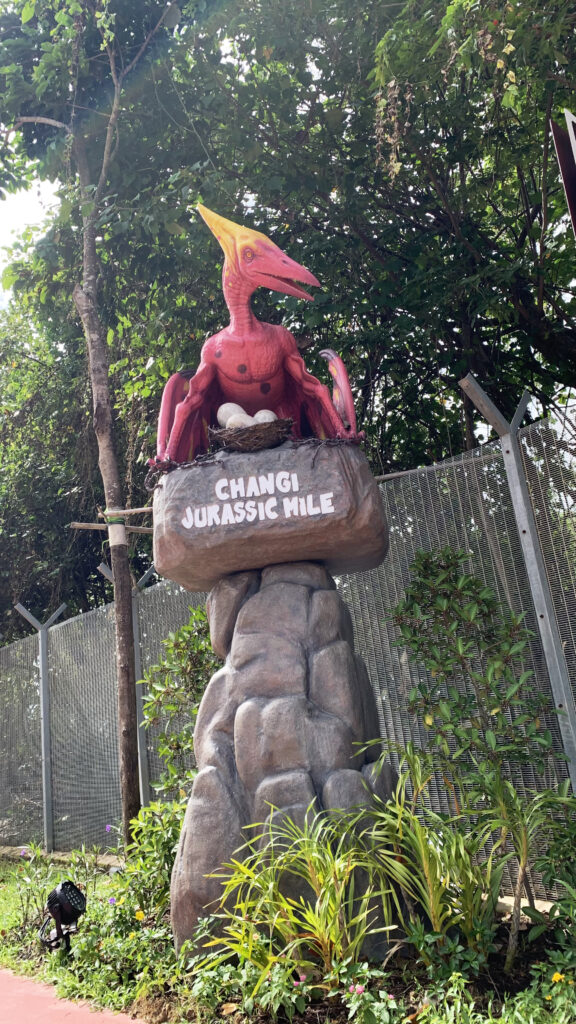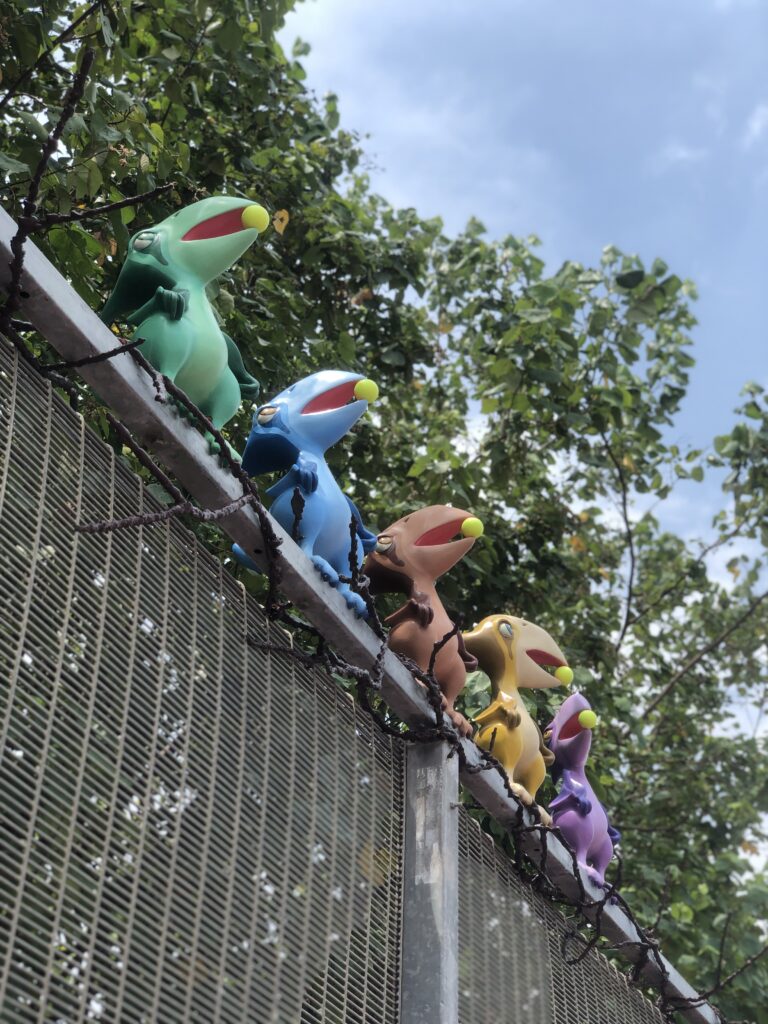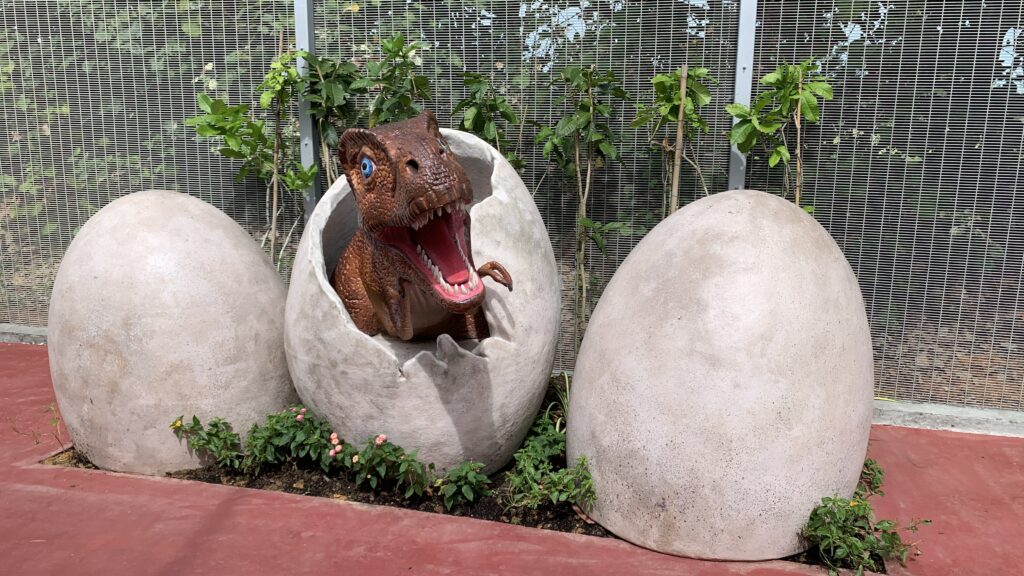 3:00PM – SPECTACULAR WALK
These ferocious-looking reptiles will take you back to the prehistoric era and the incredible wildlife habitat. There are a total of 22 dinosaurs in the enclosure, be sure not to miss out on any!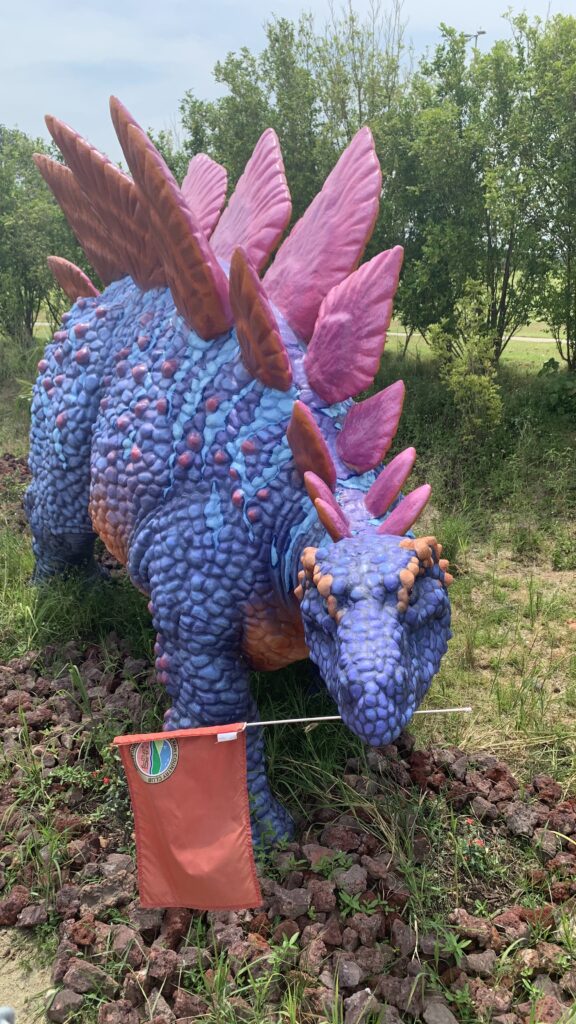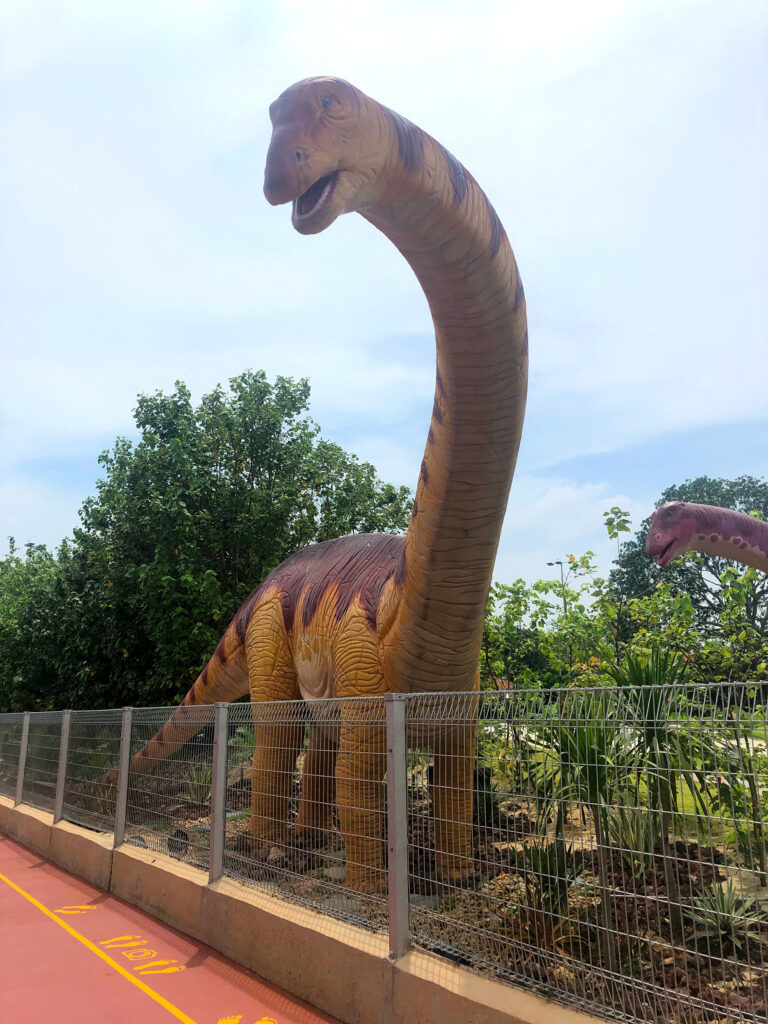 4:00PM – THE FINAL STRETCH
We have reached the last stretch of Changi Jurassic Mile. For those who wish to continue their journey towards East Coast Park, you can simply follow the pathway. After some photo-taking and rest, we decided to cycle back to HUB & SPOKE to return our bicycles and have a rest at the cafeteria.
As a safety precaution, safety netting has been put up along parts of the Changi Jurassic Mile following an incident recently when a visitor was injured by a golf ball from an adjacent golf course.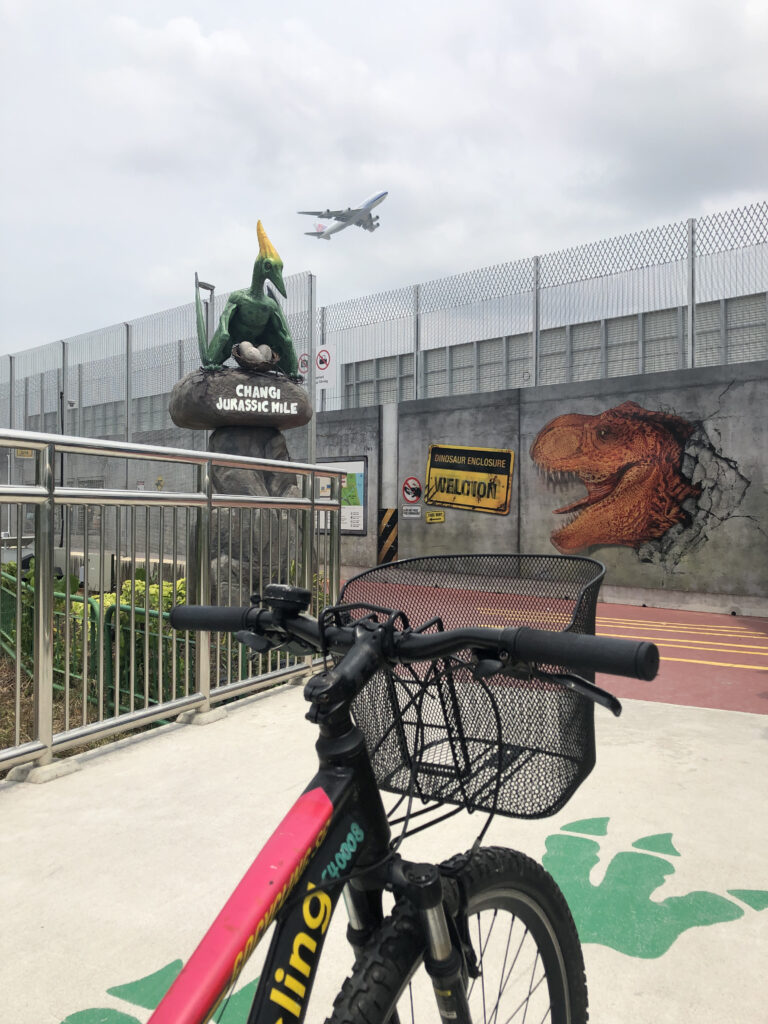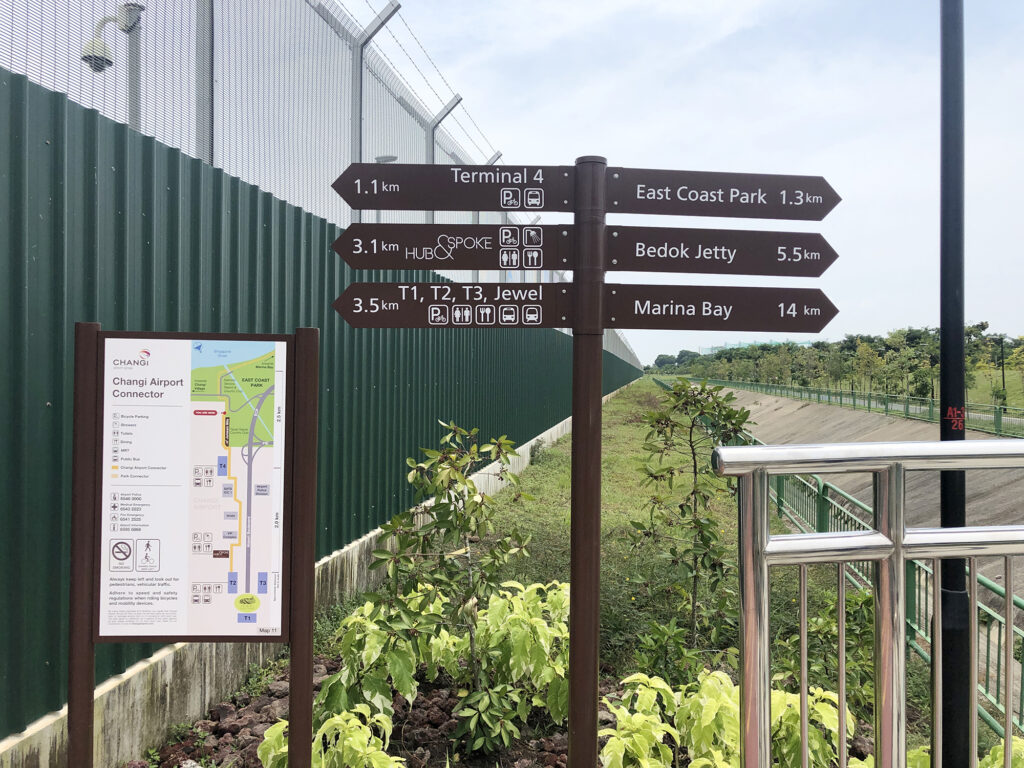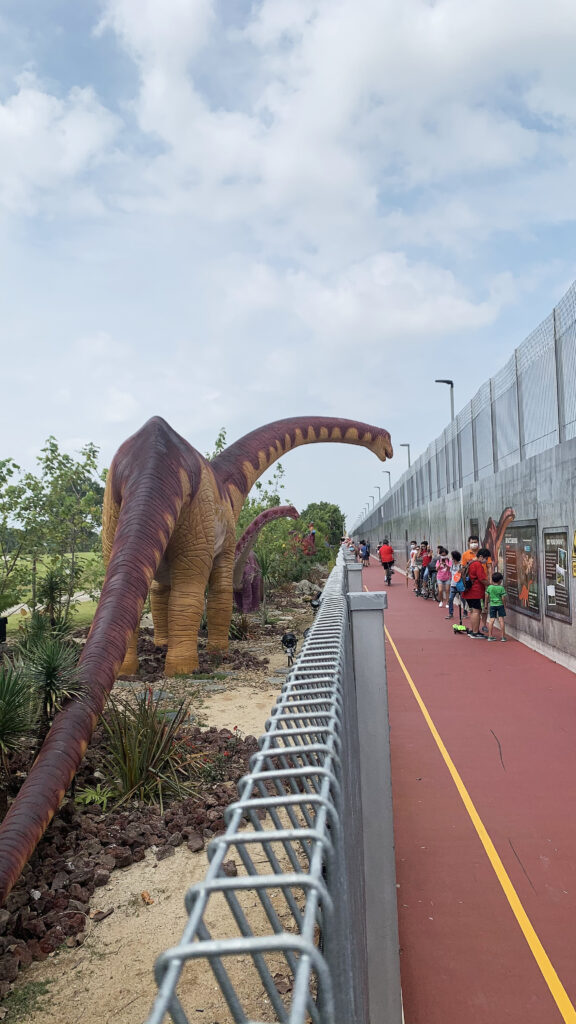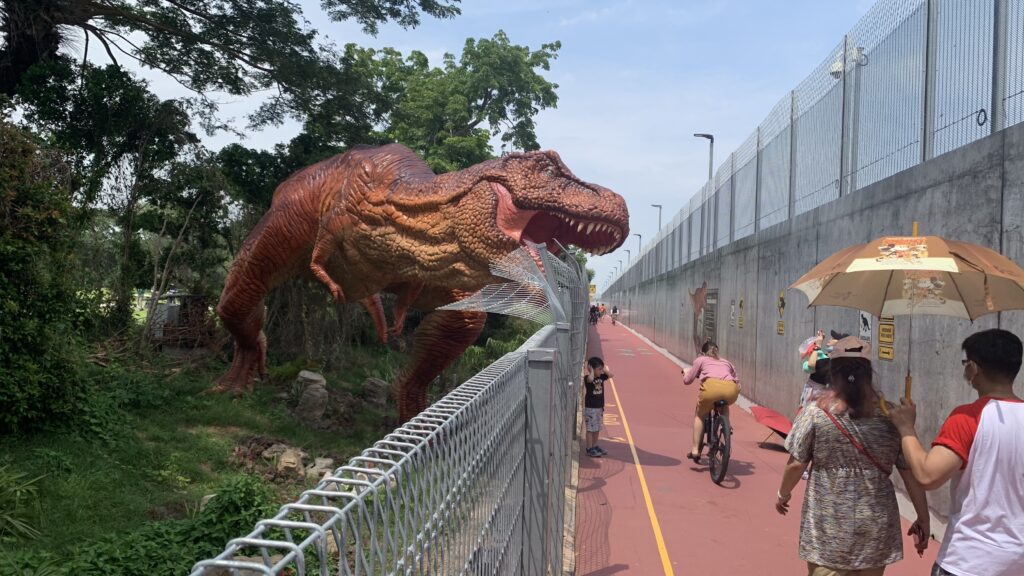 5:00PM – REST AND RELAX
After returning our bicycles at the GoCycling, we took a break at the HUB & SPOKE cafe and ordered Mee Rebus Java ($6.90) and some drinks to replenish our energy. We purchased the shower entry pass for $3 (one-time entry) and washed up after a warm afternoon under the sun. Do note that towels are not provided so you will have to bring your own.
The open space around the cafeteria creates a comfortable atmosphere to relax with family and friends. It is also available for event booking.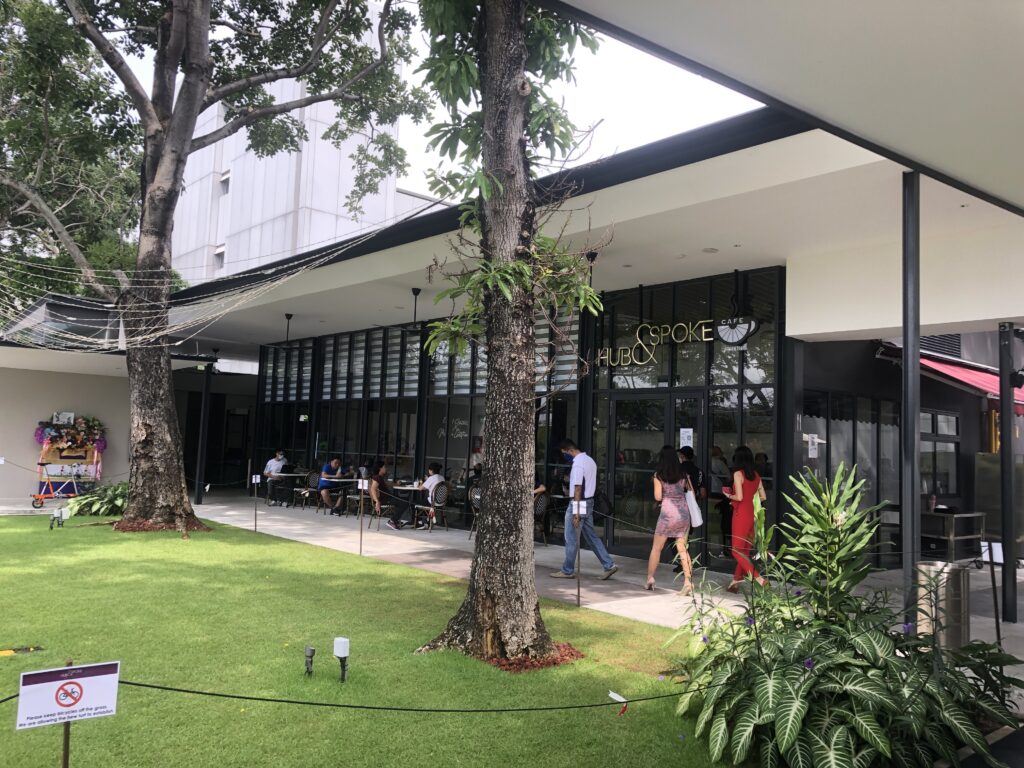 Do note that as of 2 November 2020, visitors are not required to make a booking to enter Jurassic Mile. Visitors are required to adhere to safe distancing measures and wear a face mask at all times unless when eating, drinking or doing strenuous exercises.
Have a roaring good time at the Changi Jurassic Mile and stay safe!